In this digital era, it is a daily staple for people to resort to social media first thing in the morning, while taking breaks during work hours, or to kill time after work.
Social media has become an inseparable element of our daily existence.
While there is an avalanche of content sliding through the social platforms every day, some pieces create a massive buzz.
In this age, this 'buzz' is an element of desire for every marketer.
Memes are a clever way to combine wit and humour to earn that buzz for your brand with immense agility.
Follow this simple guide to learn about memes, what they mean for business and how to create them.
What exactly is a meme?
A meme is a piece of content that spreads rapidly across the Internet from one person to another.
It can be a visual, a video, a hashtag or any other format of content.
However, most commonly seen memes on social media are often like a single image comic strip.
Memes generally contain an element of humour or wit that highly resonates with audiences and strikes an immediate emotional reaction from them.
The lifespan of a meme is typically short, but it captures sizable engagement in its very limited life.
This can be cleverly used by business to engage with their audiences and earn a share-worthy response.
How can memes help your business?
Day by day, the intrusion of social media in our lives is expanding.
Data backed studies suggest that an average person spends about 100 minutes on social media daily. This is why almost every brand is making their attempt to carve out their identity on social platforms.
When people hang out on social media, their objective is not to look at advertisements. We're living in that time of the world when the aversion to ads is at an all-time high.
The mindset guiding the time spend on social media is entertainment or the desire to keep up with what others are doing, what's new.
Memes with their element of wit and humour do that just right.
Memes are also simple to produce. All you need is a little thought behind how you can relate them logically and not forcibly to your brand.
And if you get it right, they spread like wildfire generating massive RoI in a very limited time.
Need more reasons to dive in?
 Simple approaches to indulge in meme marketing
If I have to decompose crudely, there are three broad ways in which you can implement meme marketing for your brand
Piggyback on viral memes
Every single day there is a new meme that makes its presence on social media. Not all are successful in generating the desired viral buzz.
However, some memes instantly hit off.
As a keen marketer, you need to keep an eye on these memes that instantly resonate, evaluate if they can be used for your brand and be agile in implementing the same.
Popular enterprise chat platform Hipchat created a billboard piggybacking on the "Y U NO" meme and reaped a 300 percent increase in search traffic. This move also got them featured on esteemed publication TechCrunch.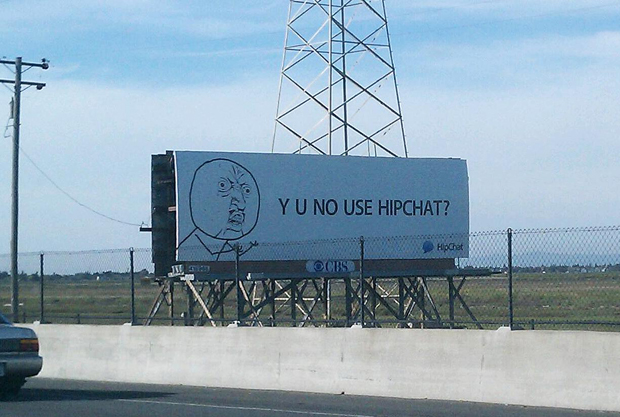 CAUTION:
A possible drawback of this approach is you might look unoriginal to the audiences.
An improper adaptation to your brand might even make you lose your own lustre.
However, on the positive side, they're the easiest way to reap dividends if done right and on time. They have the potential of giving you a massive response with limited creative capital.
Reinvent Existing Memes
This approach is slightly different from the earlier one in the dimension of originality. Memes mostly belong to a similar basket. Creating your own meme can be done by drawing out along the circumference of commonality of existing popular memes.
This is what Gucci did in its campaign to market the launch of its watch collection.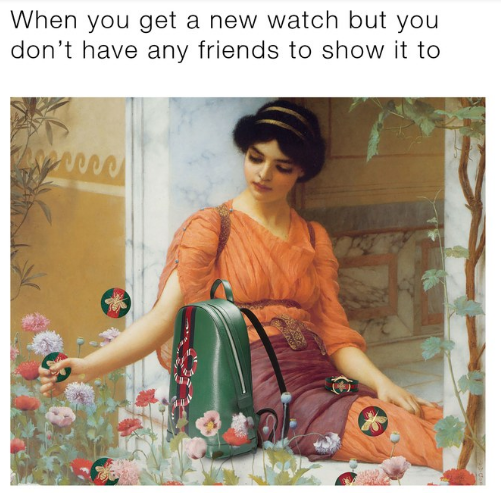 Create From Scratch
Creating your own meme from scratch might involve some extra creative juices, but if done right pays like no other.
Authentic edgy humour is always disruptive and never fails to incite a response.
Good starting points to build your meme could include watching out trending topics, movies or TV shows, celebrity gossip etc.
Here's an example of popular ice cream brand Baskin Robins riding the wave of the iPhone X launch that is heavy on the pocket that went viral.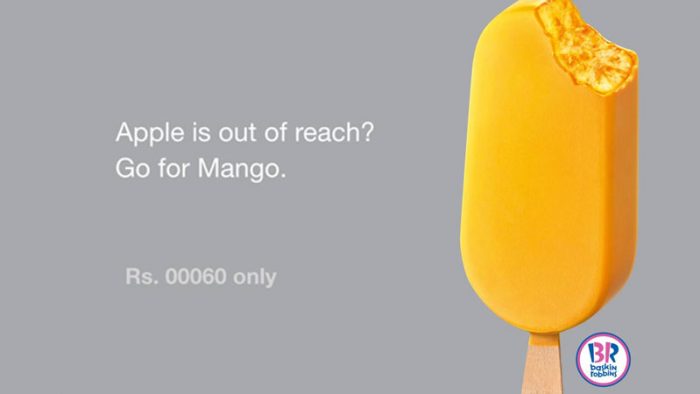 Handy tools to generate Memes
Once you have your line of thought in place, creating a meme is simpler than you may imagine.
Here are some handy tools you can use to instantly generate trending memes for your custom text –
Now that you have the knowledge & tricks up your sleeve, reinvent a fresh spin with viral memes.
Will love to hear about your experience!