A Marketer's Perspective On The Condom Ad Ban
The topic of sex in the Indian community at large is still a taboo.
Culturally, we have grown up to not publically engage in conversation regarding the same, especially in front of our elders or those younger to us.
Whether that should be the case or not, is not at all a social issue I'm trying to debate.
What I rather wish to talk about is a basic awareness which is a must, whoever and wherever it comes from. 
In that sense, my thrust is on the relevance of responsible advertising in the wake of the condom ad ban.
Along with that, I have some marketing insights to advertise responsibly and effectively.
The Condom Ad Ban
The Information and Broadcasting Ministry of The Government of India recently imposed a ban on airing condom advertisements on television from 6 am to 10 pm.
The Hindu suggests the following notice from the government –
"All TV channels are hereby advised not to telecast the advertisements of condoms which are for a particular age group and could be indecent/inappropriate for viewing by children. Indecent, vulgar, suggestive, repulsive or offensive themes or treatment shall be avoided in all advertisements. It said such advertisements may be telecast between 10 p.m. and 6 a.m. to avoid exposure of such material to children."
A lot of opinions are floating about whether it is right or wrong.
Some say that the government is stalling individual expression rights.
One school of thought says India is in dire need of increased condom adoption rates and this ad ban is an unnecessary decision.
Some say content is extremely explicit and unsuitable for audiences of all ages & support the government's decision on moral grounds.
To each his/her own, but here are my two cents on the same, along with my reasoning.
Experience as a 90's Kid
I come from the generation when TV advertisements about AIDS, family planning were common.
On watching them, I related the same to biology lessons in school. That is where my initial understanding of these terms and the consequences thereof came to place.
And I'm sure, similar was the case with most of those from my peers.
The popular advertisement campaign by the West Bengal government in the name of Buladi was largely instrumental in spreading awareness in the state I belong.
Almost every 90's child will testify remembering the advertisement and the sharp imprint created by the same.
This is my personal validation from experience of the impact and effectiveness of advertisements in sex education.
Now, I 'll come to the current state of affairs in the country. Where exactly are we in terms of reproductive health?
Facts about Reproductive Health in India
India ranks in the 3rd position from top in world HIV.
As compared to European countries with a 30 percent condom adoption rate, India stands at less than 6 percent.
Government statistics show the use of condoms has declined 52 percent in the past eight years.
So yes, It is a scenario which calls for worry.
Need For Awareness
The numbers reflect the pressing need for awareness & sex education.
Especially because sex is a taboo topic in India, there needs to be external intervention to fill in the information gap as often it doesn't begin at home.
Moreover, as compared to even a decade ago, there is a massive increase in simplified access to pornography polluting young minds.
This brings us to the question of who will do the needful.
In the marketer's world, we talk a lot about content marketing. It refers to providing value to the end user through useful content.
In that regard, the most relevant one to do the same besides the government should be condom companies.
Condom companies can be largely instrumental in reducing the spread of sexually transmitted diseases in the country.
They typically have a large marketing budget splashed across television, print media & social media.
It can be utilized and branded as a product to promote safe sex.
Correct Brand Positioning
Now that I made my point about how I feel condom advertisements are more of a social issue than a commercial one, I want to justify my thought.
Even now, the government's issue is not with the product, but the positioning. 
Unlike commodities like alcohol that are banned from advertising, the government hasn't altogether banned condom advertisements, realizing the role of the same.
The problem is with the sleazy, filthy positioning of the brands. 
The Commandments for Condom Advertising :
Going back to the advertising campaign under the name of Buladi, here's a lesson to learn in responsible and effective advertising.
Avoid Women Objectification:
Buladi was a woman. The campaign was successful in catering to its cause. It did not raise eyebrows.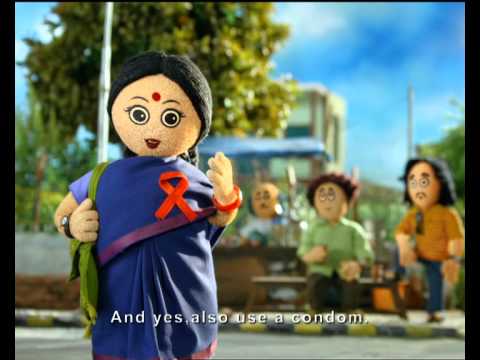 As opposed to typical ads about condoms airing on TV, showing explicit scenes with skimpily clad women, Buladi was different.
She was a fictitious character, representative of a middle-aged housewife who also looked like a working woman.
In one sense, this was about women empowerment. She epitomised the advisory role of a woman in tackling a serious social issue.
This is a sign of progress as against falling to greater lows.
Impart Knowledge & Encourage Responsible Action
The idea of selling a product doesn't always have to be about spurring a visceral reaction only.
Especially with a product like a condom, there should be some focus on imparting the right knowledge.
The advertisements should talk about the importance and need for responsible action.
This is exactly what Buladi did.
Indulge in Direct Response Advertising
One good way to measure the social impact would be to indulge in Direct Response Marketing.
This won't just help in the measurement of marketing ROI, but also help to ascertain the social impact.
For instance, have a helpline or email where people can shoot their queries. The frequency of responses will help in understanding the social worth of the advertisement.
Buladi came with a helpline number(Call 1097) which received a large number of calls. This helped to measure the success of the campaign.
Government Clarification on Condom Ad Ban
As per Times of India, The Ministry of Information & Broadcasting has recently clarified that the ban is only on sexually explicit content.
This means that most of the criticism against the ban stands nullified.
Hopefully, the relevant companies will learn their lesson and avoid cheap publicity stunts.
What do you think? Will love to hear your opinion on the same!